Ten Nurses Pinned in First Accelerated BSN Program Ceremony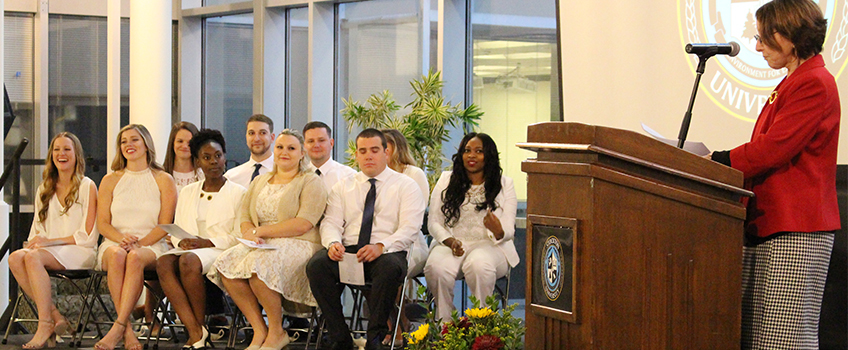 Galloway, NJ – Ten nurses in Stockton's Accelerated BSN Nursing Program were pinned Dec. 15 in an emotional ceremony at the University.
"You blazed a trail here," speaker Stephanie Chung, visiting assistant professor of nursing, told the group, the first cohort to graduate from the program. "This might not have been your initial path, but you found your way. You are dedicated beyond belief."
The Accelerated Nursing Program, or TRANSCEL, is a 15-month program geared to students who already have a bachelor's degree, ideally in an allied health or science field. The program provides the specialized nursing and clinical courses students need to become Registered Nurses with a Bachelor of Science in Nursing degree.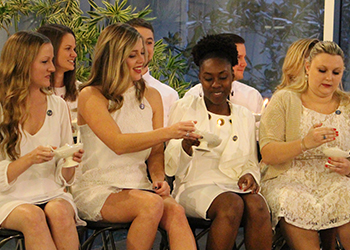 Chung said she asked other faculty for their advice to the graduates. They advised the new nurses to make sure they take care of themselves as well as their patients, to have a support group, to not be afraid of change, and to never underestimate their impact on a patient.
"You are there for the happiest and saddest of times," Chung said. "We are beyond proud of you and wish you all success."
Nursing program coordinator Mary Padden-Denmead introduced the class. Jaqueline Arnone, led the pinning, with each graduate getting pinned by a nurse who has made a difference in their lives. The Stockton pin displays the Stockton seal.
Chung led the Lighting of Candles and Barbara Amendolia led the Nightingale Pledge.
Graduate Brianna Fenton received the Academic Achievement Award for Nursing and Samantha Rumer received the Dr. Mary Ellen Florence Professionalism Award.
Elizabeth Calamidas, interim dean of the School of Health Sciences, closed with advice from her own daughter, a new nurse.
"Be passionate and compassionate," she said. "What you have learned can save a life."
PHOTO CAPTION: The graduates, pictured from left to right below, are: Brianna Fenton of Forked River, Chelsi Biener of Newfield, Sonya Brown Korsah of Atlantic City, Cody Eastburn of Manahawkin, Samantha Rumer of Ocean City, Rebecca de Jong of Somerset, Daniel Paganelli of Forked River, Briana Bobo of Audubon, Melissa Semerville of Egg Harbor Township, and Andrew Lippman of Philadelphia.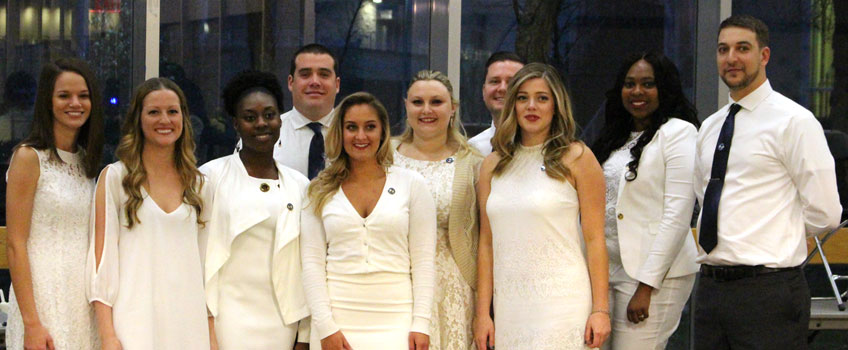 View a gallery of photos from the pinning ceremony on Flickr.
More information on the Accelerated Nursing Program is available at stockton.edu/health-sciences.
Contact:
Diane D'Amico
Director of News and Media Relations
Galloway, N.J. 08205
Diane.D'Amico@stockton.edu
609-652-4593
stockton.edu/media