Stockton Receives Excellence Award from "Insight into Diversity"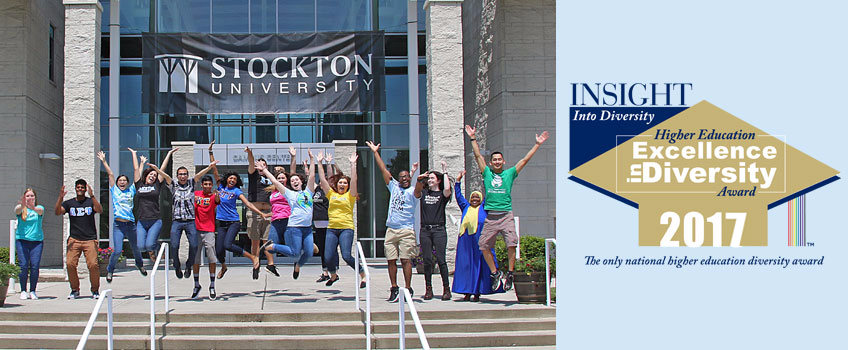 GALLOWAY, N.J. - Stockton University has received a 2017 Higher Education Excellence in Diversity (HEED) Award from INSIGHT Into Diversity magazine, the oldest and largest diversity-focused publication in higher education.
This is the second year in a row the University has received the award.
The annual HEED Award is a national honor recognizing U.S. colleges and universities that demonstrate an outstanding commitment to diversity and inclusion. Stockton will be featured with 79 other recipients, in the November 2017 issue of INSIGHT Into Diversity magazine.
"Stockton is extremely honored to receive this award again as a testament to our ongoing commitment to diversity and inclusion," said President Harvey Kesselman. "Stockton is committed to our mission of developing engaged and effective citizens with a commitment to life-long learning and the capacity to adapt to change in a multi-cultural, interdependent world. The University has always valued differences and promoted mutual respect, fairness, community outreach and the open exchange of ideas."
Valerie Hayes, Stockton's chief officer for Institutional Diversity and Equity, said Kesselman's support and commitment to diversity, equity and inclusion are invaluable to the efforts at Stockton.
A Committee on Campus Diversity and Inclusive Excellence, comprised of faculty, staff and students, developed a campus climate survey that was distributed to employees this past academic year. One of its working subcommittees is in the process of analyzing the survey data.
"The results of the surveys will provide a benchmark that will give us glimpses of how included employees from different cultural backgrounds feel on Stockton's campus," Hayes said.
The Committee also plans to develop a similar campus climate survey that will be distributed to students.
Stockton Provost Lori Vermeulen also established Stockton University Grants in Support of Strengthening Diversity. Seven grants have been awarded this year.
"The HEED Award process consists of a comprehensive and rigorous application that includes questions relating to the recruitment and retention of students and employees — and best practices for both — continued leadership support for diversity, and other aspects of campus diversity and inclusion," said Lenore Pearlstein, publisher of INSIGHT Into Diversity magazine. "Our standards are high, and we look for institutions where diversity and inclusion are woven into the work being accomplished every day across their campus."
For more information about the 2017 HEED Award, visit insightintodiversity.com.
Contact:
Diane D'Amico
Director of News and Media Relations
Galloway, N.J. 08205
Diane.D'Amico@stockton.edu
(609) 652-4573
stockton.edu/media
. # # #