David Morton - Choose Stockton
David Morton
Class of 2024

Major: Visual Arts

with a concentration in interdisciplinary arts.

Hometown:

Union, New Jersey
Why did you choose Stockton?
I chose Stockton because it would give me the opportunity to push myself in new circumstances.
How did you choose your major?
I was originally a Criminal Justice major but in my second semester as a sophomore I decided to switch to Visual Arts because art and expression is what I'm passionate about. It was intimidating at first, but I am so happy that I did. I have met a lot of great people and professors that really care and want to see me improve.
What have you gotten out of your academic program so far?
The most profound thing I have gotten out of my academic program is the confidence and courage to try new things. I have had so many projects and worked with things that I never thought I would. Working with things so far out of my comfort zone and seeing myself adapt to it with the help of my professors has given me a completely different mindset. I know that even if I don't know how to do something, that doesn't mean I can't figure it out and be excited about doing it as well.
What other opportunities have you had at Stockton?
I am going into my third year as a Resident Assistant. I couldn't count all the different situations I have been put in because of this role, but it is also one of the main reasons why I have built trust and confidence in myself. Whether someone genuinely needs help, or it is a nervous parent dropping their child off at school for the first time, I trust myself to handle situations and keep a cool head. Being a resident assistant can be a lot, but I can't deny it has been an integral part of my college experience.
I'm also in the Stockton Rock Climbing club. It's some of the most fun I've had and the people in the club are great and very inviting. I'm so happy I pushed myself to join, and I encourage others to get out of their comfort zone. It makes life so much more fulfilling.
How is Stockton preparing you for the next stage of your life?
I feel like I have grown up here in so many ways. There have been so many things that my freshmen year self wouldn't believe that I'm doing. Stockton has taught me that failure doesn't exist because you can always try again and the only time you lose is when you give up. Perseverance is your best friend, and having the courage and audacity to go after what you want leads to real changes.
What are your career goals?
My career goal is to be passionate about whatever I choose to do. I don't have one set job and that is the greatest thing because I can go in so many different directions. Tattoo artist? Comic book artist? Animator? Why not all three? I'm not going to have my entire life figured out at 21, and I'm completely ok with that. However, I have thought about the idea of being a firefighter because I can push myself physically and mentally while still having the time to pursue my other passions.
What advice do you have for students thinking about attending Stockton?
Do it scared. You don't know the power you give yourself when you face your fears, and how much you are really changing your life. A quote I have been living by for the past couple years is, "You're not allowed to complain about your situation if you're not trying to change it." Your life is in your hands, and it is up to you what you do with it. Nothing worth having comes easy, embrace every challenge, and view it as an opportunity to grow and get better. In less time than you think, you won't even recognize yourself.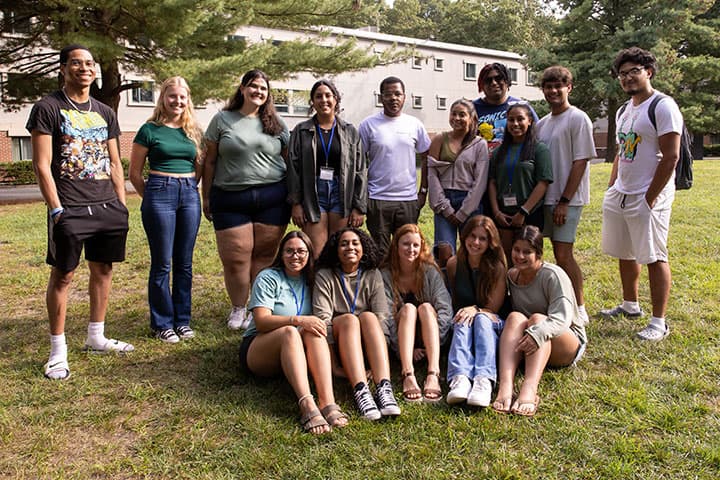 ---