Marc L. Richard
Associate Professor of Chemistry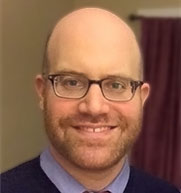 BIOGRAPHY
Dr. Marc Richard came to Stockton in Fall 2007 after serving as a Visiting Assistant Professor of Chemistry at Williams College. He completed his doctorate at the Massachusetts Institute of Technology in 2005 in the field of Materials Science with a focus on the structure-property relationship of ferromagnetic shape-memory alloys. Dr. Richard was awarded a B.S in Materials Science and Engineering from Northwestern University in 1999.
EDUCATION
Sc.D., Massachusetts Institute of Technology
B. S., Northwestern University


AREAS OF EXPERTISE
Materials science, physical chemistry, trace explosive analysis, archaeometallurgy


COURSES TAUGHT
Physical Chemistry I & II
Chemistry I: General Principles
Chemistry IV: Theory & Application
Chemistry Seminar
Introduction to Research
Experiential Chemistry
---
RESEARCH INTERESTS
My research focuses on studying the properties of trace explosives in an effort to improve standards development and detection. I work closely with Dr. Louise Sowers and with collaborators at government laboratories. This work involves several different types of analytical instrumentation including gas chromatography/ECD, gas chromatography/mass spectrometry, differential scanning calorimetry, thermal gravimetric analysis, and ion mobility spectrometry. Past student projects have included method development, stability studies, and an analysis of particle collection efficiency.
PUBLICATIONS
S. Cydis, M. L. Galantino, C. Hood, M. Padden, & M. Richard. "Integrating and assessing essential learning outcomes: Fostering faculty development and student engagement" Journal of the Scholarship of Teaching and Learning, 15(3) (2015), 34–52.

M. Richard, K. Hallock-Waters, B. Rogerson, and S. Rajaraman. "Introduction to Research: engaging first and second-year science majors in research through a multidisciplinary course" Biennial Conference on Chemical Education, August 2014, (Grand Rapids, MI)

M. Richard and J. Griffiths. "Experiential Chemistry: a unique laboratory course for non-majors" 2013 Spring Meeting of the American Chemical Society, April 2013, (New Orleans, LA)

P. Lázpita, J. M. Barandiaran, J. Gutíerrez, J. Feuchtwanger, V. A. Chernenko, M. L. Richard. "Magnetic moment and chemical order in off-stoichiometric Ni–Mn–Ga ferromagnetic shape memory alloys", New Journal of Physics, 13 (2011) 033039.