Summer @ Stockton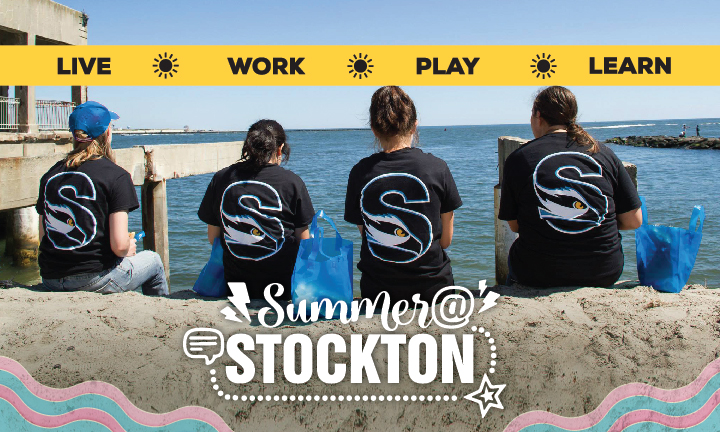 Stockton University Residential Life is proud to have opened the Atlantic City residential complex starting int he Fall 2018 semester. This beach and boardwalk front property houses 533 students and has more than 145 apartments with full kitchen facilities, and free garage parking next to the residence hall. Information can be found below regarding the summer options in Atlantic City. Please email housing@stockton.edu with any questions or call 609-761-1232. The address for the residential complex is 3701 Boardwalk, Atlantic City, New Jersey, 08401.
Atlantic City Floor Plans can be found be clicking on this link.
---
12-Month Housing @

Stockton
Stockton students can live at Stockton from August to August
Stockton students can save more than $1,000 by staying in 12-month housing compared to paying separately for winter and summer housing
Students can find the 12-month housing prices at the Bursars Office website or can click here
Summer housing will only be offered at the Atlantic City residence hall
Resident assistants provide educational and interactive programming throughout the summer
Free garage parking on the beach
Free laundry
Students can view a F.A.Q. page about 12-month contracts by clicking here
If students are intrested in the 12-month contract they should email housing@stockton.edu, or call 609-652-4697.
---
Summer Housing @ Stockton
Students/faculty/staff can stay in summer housing in Atlantic City without signing up for a 12-month contract
Students can find the per day rate for summer housing at the Bursars Office website or can click

here
Faculty and staff can find the prices and lengths of stay for summer housing in Atlantic City by clicking here
Summer housing will only be offered at the Atlantic City residence hall
Free garage parking on the beach
Free laundry
A minimum thirty (30) day stay is required
---
Summer Housing @ Stockton Campus and Regional Partners
Students from other institutions can live at Stockton over the summer
Students from other institutions can only stay for educational purposes such as internships or other activities where they will receive academic credit
Students must be current students or must have graduated within the last academic year
Students must provide a transcript showing their current academic status
Students and recent graduates must be in good standing with their institution
Students must complete good standing letter and have it signed by their campus dean of students
Summer housing will only be offered at the Atlantic City residence hall
Free garage parking on the beach
Free laundry
A minimum thirty (30) day stay is required