Stockton University Leadership Council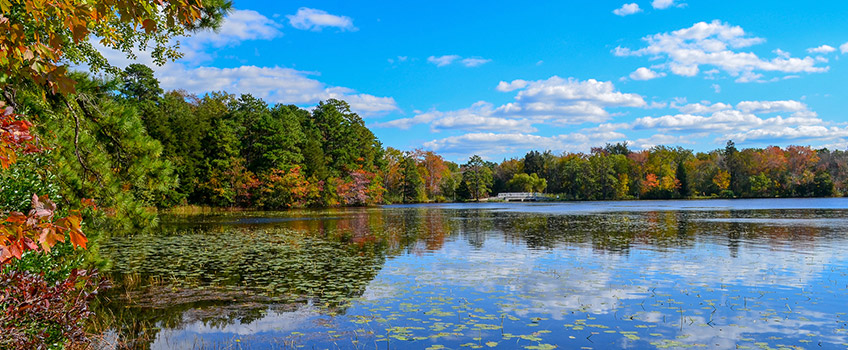 The Stockton University Leadership Council is comprised of senior level managers, directors, and division leaders appointed by the President who assist with the advancement of our strategic priorities, that are designed to positively enhance the "Stockton experience" for students, faculty, and staff. The council members meet three times a year to review relevant topics that affect the Stockton community as a whole and receive annual trainings on ways to strengthen their ability to effectively lead within their respective divisions.
The mission of the Leadership Council is to further expand on Stockton's successful shared governance model, where every voice is heard to ensure the university's overall mission and vision is upheld, to foster a community of collaboration, and one of mutual respect and trust.
Dr. Joe Bertolino - President
Walead Abdrabouh - Director of Information Systems & Business Intelligence
Michael Angulo, Esquire – Vice President for Personnel, Labor & Governmental Relations
Dr. Brent Arnold - Dean, School of Health Sciences
Ellen Bailey – Deputy General Counsel
Peter Baratta – Chief Officer for Strategic Planning and Effectiveness
Dr. Haley Baum -

Asst. Vice President for Student Advocacy, Belonging & Campus Standards & Dean of Students

Anthony Berich – Interim Director of Athletics & Recreation

Dr. Christopher Catching – Vice President for Student Affairs

Stacey Clapp – Director of Strategic Communications

Dr. Merydawilda Colon – Executive Director, Stockton Center for Community Engagement & Service Learning

Chris Connors – Director of Financial Aid
Chris Corea – Associate Director of Environmental Health & Safety
Cindy Crager – Assistant Vice President for University Advancement

Anne Crater - Deputy Title IX Coordinator

Dr. Terricita Sass – Executive Vice President and Chief of Staff
Dr. Zupenda Davis-Shine - Asst. Vice President for Student Health & Wellness
Kimberly Dickerson, Assistant Dean of Education
Emari DiGiorgio - President, Stockton Federation of Teachers, Local 2275
Todd Dougherty - President, IFPTE, Local 195
Sara Faurot – Director of Alumni Relations

John Fritsch -

Director of Facilities Management & Plant Operations

Diane Garrison –

Executive Director of Budget, Fiscal Planning and Campus Services

Dr. AmyBeth Glass –

Associate Provost for Academic Affairs

Dr. Rob Gregg – Dean, School of General Studies
Elvis Gyan - Director, Center for Academic Advising
Dr. Valerie Hayes, Esquire – Chief Officer for Diversity and Inclusion
Dr. Robert Heinrich – Vice President for Enrollment Management
Joseph Horan - Interim Director of Human Resources
Don Hudson – Senior Vice President for Facilities and Operations

Mary Hughes -

Director of Disbursement Services

Scott Huston – Vice President for Information Technology Services & Chief Information Officer

Dr. Ariane Hutchins-Newman -

Associate Provost for Academic Success

Brian Jackson – Chief Operation Officer, Atlantic City Campus

Jhanna Jean-Louis - Director of Student Affairs Finance, Administration & Operations

Jessica Kay - Director of Institutional Research
Dr. Claudine Keenan – Dean, School of Education
Dr. Warren Kleinsmith - Interim Dean, School of Business
Dr. Dawn Konrady Fanslau – Director of the Child Welfare Education Institute
Jennifer Kosakowski – Executive Director, Research & Sponsored Programs
Brian Kowalski – General Counsel
Esther Lawrence -

Assistant Dean, School of Business

Rhianon Lepree - Director of Facilities Administration & Real Estate

Dr. Marissa Levy – Dean, School of Social and Behavioral Sciences

Joe Loefflad - Director of IT Infrastructure & Communications

Claire Lopatto -

Assistant Dean, School of General Studies

Alex Marino - Director of Academic Operations, Atlantic City Campus

Dr. Ian Marshall - Dean, School of Arts and Humanities

Alicia McMackin – Associate Director of Development

Heather Medina, Director of Admissions

Bernadette Morris - Interim University Registrar & Executive Director

Dr. Amanda Norvell, School of Natural Sciences and Mathematics

Dan Nugent – Vice President for University Advancement & Executive Director of the University Foundation
Dr. Jessica OShaughnessy - Associate Provost
Mamta Patel – Associate Vice President for Human Resources
Rosa Perez-Maldonado -

Assistant Dean, School of Arts and Humanities

Geoffrey Pettifer -

Associate Vice President for University Relations & Marketing

Jennifer Potter – Vice President for Administration and Finance & Chief Financial Officer

Brett Pulliam - Executive Director for Educational Opportunity & Success Programs

Sheila Quinn, Associate Dean for Nursing/Chief Nurse Administrator

Dr. Steven Radwanski –Assistant Vice President for Student Living and Learning & Executive

Director of Residential Life

Dr. Ashlee Roberts – Executive Director of Student Affairs Planning and Operations

Thushani Rodrigo-Peiris -

Assistant Dean, School Natural Science & Mathematics

Regina Rosenello - Manager of Disbursement Services

Romeo Ruddock - Director, Continuing and Adult Education

Tammy Saunders - Director of Title IX & EEO

John Smith – Director of Operations, Atlantic City Campus

Craig Stambaugh – Assistant Vice President, Engagement and Community Development

Ryan Terrell – Bursar & Director of Student Accounts
Dr. Patricia Thatcher - Interim Associate Provost, Library & Learning Commons
Robert Wallace - President, CWA, Local 1031
Alaina Walton – Director of Academic Assessment
Heather Watkins - Deputy Chief of Staff & Board Liaison
Patty Weeks – Director, Southern Regional Institute & ETTC

Charles "Skip" West – Director of Facilities Planning and Construction

Tara Williams – Director of Graduate Studies

Adrian Wiggins – Director of Campus Public Safety

Robert Yufer - Director of Procurement & Contracting