Bird's-Eye View
Meet this month's Bird's-Eye View
John Kayes '17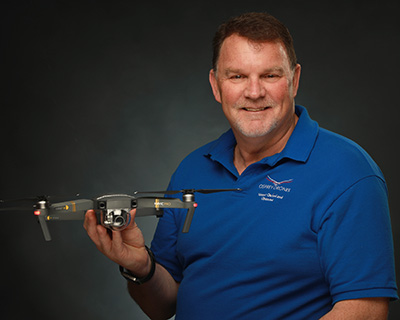 NAME:
John Kayes
DEGREE:
Masters of Business Administration-2017 Ed.D. Candidate 'Organizational Leadership Program'-Fall' 2019
JOB TITLE:
Osprey Drones LLC is a Service-Disabled Veteran-owned Small Business which specializes in flight operations and high-quality aerial imagery using unmanned aircraft vehicles (UAV) otherwise known as drones which can be cost saving to your company for various purposes relative to the energy & utility sector, construction, government & other industries. We bring more than 30 years of military experience in the Aviation Industry; Aviation Safety, Aerospace, and Unmanned Systems. Qualified and licensed aviation professionals who supervise our growing fleet of small-unmanned aircraft systems pilot our drones. Our multi-discipline team ensures that all our work is carried out with yours and our best safety practices in mind. We guarantee that all our clients receive the highest level of advice, service and data requested.
FUN FACTS/HOBBIES: I joined the United States Coast Guard in 1983 and made it a career until 2005 when I retired honorably. My specialty in the Coast Guard was Aviation Maintenance Supervisor, and I also flew in the HH-65 helicopter as a Flight Mechanic performing hundreds of Coast Guard Missions from the air. I obtained my undergraduate degree from Embry Riddle when I was in the service and obtained my MBA from Stockton after I retired. My hobbies include helping veterans, mentoring students, coaching street hockey and all things aviation. I also taught myself how to fly drones which led to me being a FAA Certified Drone Pilot. With the skills and education I received at Stockton I was able to start my own business.
I love being a father, friend, and mentor to my two children – my beautiful 18-year-old daughter, Lauren and my 13-year-old son, Andrew who is an athlete.
How did your Stockton experience influence your life?

My Stockton experience allowed me to step out of my comfort zone, work as a team with other graduate students, and present myself as a professional. Most of my graduate courses were team based where I worked with fellow MBA students to deliver and present coursework. It was a real pleasure to learn about my team's experiences, cultures, and personalities as we worked together throughout the semester.

Also being a Veteran, I was involved in Stockton's Student Veterans Organization (SVO) events, including VETS panels. The SVO is a great organization to be part of.

How did your academic program impact your Stockton experience and career?

The MBA academic program provided me the foundation to start my business, Osprey Drones. With fantastic graduate courses in accounting, marketing, entrepreneurship, business planning, leadership, communication and customer service I've been able to successfully apply the tools I learned to my every day operations.

Describe your favorite Stockton memory as a student. (Ex: favorite professors, classes, events, activities, etc.)

I have two favorite memories from my Stockton experience. The first memory is of Professor Michael Busler and his MBA course "New Ventures." This course was excellent; I learned about entrepreneurship, which led to the idea for my business that I then took to the next level and turned it into a reality. I was named my business after Stockton's Mascot, the Osprey, because I identify with the resilient raptor.

The second memory is related to my participation in the Graduate Symposium where I showcased my research. I was honored to be joined by fellow graduate students at the Campus Center where we shared our projects and findings.

Describe your top reason for staying connected and involved with Stockton and your fellow Ospreys.

Stockton always will and still is a part of my life today, especially since my MBA graduate experience helped me start my business which led me to where I am today. Now that Stockton is a University and has expanded into Atlantic City with a new campus, I have taken advantage of and enrolled in the Organizational Leadership Ed.D program. The program is comprised of a wonderfully diverse group of students with broad backgrounds, which allows us to learn from each other.

What piece of advice would you pass onto the graduating class of Ospreys?

Get involved, raise your hand, and stay engaged. Network with other students, professors, and colleagues. Networking is a great way to connect with others in your field and create opportunities for yourself after college.

Is there anything else you would like to share with Stockton and your fellow Ospreys?

Take advantage of the free resources that are available to you as a student and a graduate. It's no secret that proper time management is a crucial element of success regardless of who you are or what you do.