Commencement FAQ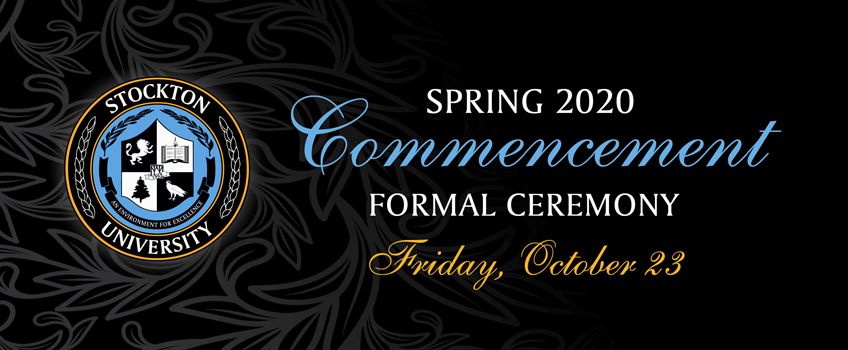 Stockton University is pleased to announce plans to hold our 2020 Commencement Ceremonies on Friday, October 23, 2020, at the Galloway Campus.

Senator Cory Booker's Message For Stockton University's Class Of 2020
Commencement Ceremony
The University is hosting Commencement Ceremonies for the Class of 2020 on the Galloway campus Friday, October 23, 2020. The deadline to register to participate in the ceremonies has passed. No additional requests will be accepted. Ceremony time assignments have been sent to the graduate's email address listed on the participation registration form and posted at Stockton.edu/commencement.
Class of 2020 graduates who were approved to participate in the May 2020 eCommencement ceremony, have secured their Stockton regalia, and RSVP'd their intent to attend will be eligible to participate in the 2020 Commencement Ceremony on October 23, 2020.
Due to state mandated capacity limits for outdoor graduation events, graduates cannot request to be moved to an alternate ceremony. 

Guest Tickets
There will be a limit of two guests per graduate. The two guest tickets will be distributed electronically from noreply@universitytickets.com approximately 2 weeks prior to the ceremony to the email address already provided in the participation registration form. The graduate is responsible for distributing the electronic tickets to the guests. Only two guests will be permitted to enter the ceremony site using the guest tickets. Guest tickets will be scanned at entry with a limit of one scan per ticket. Guests can either print the ticket or display the scan code on an electronic device. Guests will be seated individually or in household pairs, six feet apart from other guests.
Due to state mandated capacity limits,
there will be no additional
guest
tickets available.
Each ceremony will be
broadcasted via
livestream
at
Stockton.edu/commencement
for family and friends unable to attend
in person
.

Commencement Day Information

Health and Safety
Smoking is prohibited in all facilities, parking lots
,
and walk
-
ways. Smoking is permitted only in the gazebo structures designate
d
for this purpose
.

Accessibility
All seating will be ground level and wheelchair accessible.
If a guest
or graduate
requires a wheelchair, they should plan to provide their own.  
ADA parking will be available as shown on the parking map
.
Campus Police will be on-site to assist with parking. Click here to view the map.

Graduates