Meetings & Conferences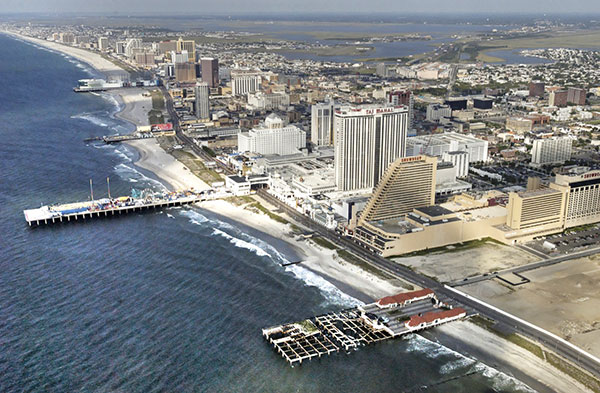 Rooms at the Carnegie Center can be leased for meetings, conferences, and other special events. The renovated and expanded historic building provides clients with modern facilities one block from the Boardwalk and Beach. With its central Atlantic City mid-town location it provides close proximity to public transportation, and a number of casino/hotel properties, including:
Carnegie contains a 75-seat lecture hall, a 40-seat multi-purpose room, a 22-seat state-of-the-art computer laboratory, a 15-seat executive conference room, and three (3) seminar rooms with seating capacities to 25. All rooms have a wall-mounted whiteboard.
Each room has an electronic podium (e-podium) that includes:
a 15-inch flat screen starboard.
Pentium 4 Processor/3 GHz, Windows XP Professional Operating System; Microsoft Office Professional software, accommodating a flash drive, CD/CDRW, Zip, and floppy disk. USB port is available on podium.
an ELMO visual projector (document camera) and DVD/VCR.
a 10 MB data connection for high-speed Internet access.
connection for a personal laptop.
electrical output/jack.
For instructional purposes and presentations, each e-podium has the capacity to transmit via ceiling mounted projector and speakers to either a 4 ft. by 7 ft. drop-down screen (lecture hall, multipurpose room, and computer lab), or 50-inch wall-mounted plasma display with speakers (seminar rooms). The executive conference room does not have an e-podium; however, it does provide table data and electric access for personal laptop that can transmit to the 50-inch wall mounted plasma display.
Wireless high speed Internet access (WiFi) is also available throughout the facility. In addition, the Carnegie Center has a terrace and spacious lobbies for receptions and special events. A full range of catering services is available from light refreshments to formal white linen service.
Each room is individually climate controlled, and free and convenient parking within 1/2 block of the facility is included in rental costs. A security staff is on-site, and the facility is equipped to send/receive faxes, copy/duplicate/scan, and provide computer/printer access.
Description of Rooms
Disclosure:
All rental fees are subject to change. A $50.00 administrative fee will be included in all rental contracts. Please be advised that the state mandates that groups have $1,000,000 individual and $3,000,000 aggregated bodily injury and a liability policy issued by a Class A company, assignable to the University.
For event scheduling or additional information, please contact Ms. Brandy Pavia, Operations Manager, at (609) 626-3852 or paviab@stockton.edu.
The Director of Operations for the Atlantic City Campus, Mr. Alexander C. Marino, can be contacted at (609) 626-3851 or marinoa@stockton.edu.